Custom Engineering
At MD Solutions our team of highly experienced engineers and developers allows us to say 'Yes' to all your custom engineering needs.  We work with your firm to understand your needs and apply our deep knowledge of the financial industry and your technology platform.  Next we efficiently develop your request and then work with you to deploy and rigorously test your custom solution to make sure it meets your specifications.
---
Featured Services
Axys/APX Relang Reports
Custom Axys/APX Billing Reports
Custom Axys/APX Invoice
Custom Axys/APX Management Fees Upload
Custom Axys/APX Operational Control Reports
Custom APX SSRS Reports
Custom SSRS Revenue Center® Reports
Custom Quarterly Report Packages
Custom APX Dashboards
Report Training
SSRS
Replang
Custom Moxy Reports
SSRS (Moxy V. 16.2 or higher)
Crystal
Custom Moxy Uploads
Other Custom Moxy Features
Commission Schedules
Restrictions
Import/Export Pre and Post Stored Procedures
FIX messages
ETL Tools (Extract, Transform and Load)
Custom Axys/APX interfaces
Utilities
Custom Axys/APX data scrubber
Workflow Improvement and Automation
Axys/APX automation
3rd party application integration
Custom Software Solutions
---
Coming up with a report from scratch can be a daunting challenge, however, a great place to start is reviewing our custom reports catalog.  Using an existing report as template you can put you own touch on it and brand it your own.
Many folks are new to the custom engineering process, so in our Custom Reports Catalog we spell out the process for you, so you know what to expect.  Download the catalog and contact us to get started.
[button text="Custom Reports Catalog" link="https://mdsolutionsllc.com/wp-content/uploads/2017/01/Custom-Reports-Catalog.pdf" style="default" size="normal" target="_self" display="inline" icon="no"]
---
Axys®/APX® Replang Reports
Custom Replang reports are still a highly efficient way to mine data on your Axys or APX platform.  Custom Axys/APX Replang can be utilized when non-client facing reports are needed.
Custom Axys/APX Billing Reports
If you can't afford Revenue Center® but still need a highly flexible billing package we can help.  Our team has written every kind of billing report that addresses even the most complex business requirements.
Family Billing
Exclusion of particular asset types or securities from market value
Tax consideration
Custom Axys/APX Management Fees Upload
MD Solutions can get you the final step of the way in the revenue payment cycle by communicating management fees to your custodian.  With a custom Axys/APX management fees upload you can reduce time for payment and risk associated with manual entry.
Custom Axys/APX Operational Control Reports
Utilizing our decades of experience in investment operations and our own co-outsourcing business we can help you develop operational control reporting to identify errors before they become problems.

---
Custom SSRS Revenue Center® Reports

You may have been told that custom SSRS Revenue Center reports are not possible, however that is not true.  MD Solutions can help you customize your Revenue Center SSRS reports.
Custom Quarterly Report Packages
MD Solutions can help you review your current package and tweak existing reports or design a new package from scratch.  Whatever your needs we can help guide you through the process of producing a quarterly package using Axys or APX that is sure to impress.
---
Custom APX Dashboards

Dashboards allow for a succinct viewing of pertinent portfolio data in one area without having to run a report.  Client service representatives have found our dashboards invaluable when speaking with clients on the phone.   MD Solutions can create custom APX dashboards to fit your needs.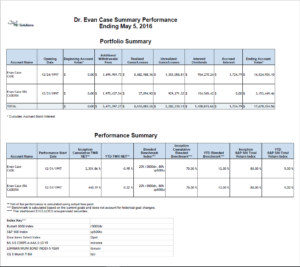 ---
Report Training
MD Solutions' certified trainers can guide you through the process of learning how to create your own Axys/APX custom reports.  We can train you on either APX SSRS or replang for either Axys or APX.
---
Moxy® Custom Engineering Services
Whatever your customization need is around Moxy we are your resource.
Moxy Reports – Crystal and SSRS (Moxy ver.16.2+)
Commission Schedules
Restrictions
FIX messages
Custom Uploads
Custom import/export stored procedures
---
ETL Tools (Extract, Transform and Load)
To fully leverage Axys or APX it will inevitably require firms to integrate with custodians or third party applications.  We have engineered integration points with the following.
Custodians – When you need custodial data that isn't covered by your vendor we can make it easy to populate your financial accounting system.
Factset®
 CompliSci®
 Redtail®
 MS Outlook®
Telemet Orion®
 Evestment®
 Investor Force®
Beyond simply integrating with third parties we can transform or 'normalize' data coming into your system.  We can use your business rules to make sure the data is just how you want it to alleviate reconciliation bottlenecks or match custodial methodologies.
---
Utilities
MD Solutions has developed a data scrubbing utility that works with Axys or APX.  Our data scrubber utilizes our decades of experience in investment operations and our own co-outsourcing business to pre-populate rules for the most common reconciliation issues with Advent Custodial Data® (ACD).  You can also write your own rules to transform your custodial data into the proper form that allows for a smooth reconciliation process.
Workflow Improvement and Automation
Working closely with our consulting practice we can help you identify and automate your investment management operations.  MD Solutions has automated every kind of process on the Axys/APX platform from custom quarterly report packages to integration points with Evestment and Investor Force.
---
Custom Software Solutions
MD Solutions consistently delivers software solutions that bridge functionality gaps in core applications.  We bring to bear on your solution our decades of industry and technological expertise, which allows us to minimize requirement gathering and compress development to a minimum.  Therefore, lowering your cost of ownership, while increasing your ROI with your core applications.